We are living in a world where everything crosses, so if you are on your way to become an entrepreneur, going global is what you should think of first. But in order to provide worldwide shipping, you must be able to accept payments pretty much anywhere, and that's when international payment gateways come in handy.
If you are baffled by international payment gateway for tech support business, look no further because we are going to cover everything you need to know about business technical support!
International payment gateways are not limited to any industry
What is an international payment gateway?
A payment gateway provides a connection system between the customer and the merchant account, allowing businesses to accept credit, debit cards and receive money digitally in the most convenient and secure manner.
It is always applicable to popular online card schemes, like Visa or Mastercard, meaning your website will be automatically connected to them. Thanks to international payment gateways, you will not only offer multiple payment options but also streamline cross-border trades.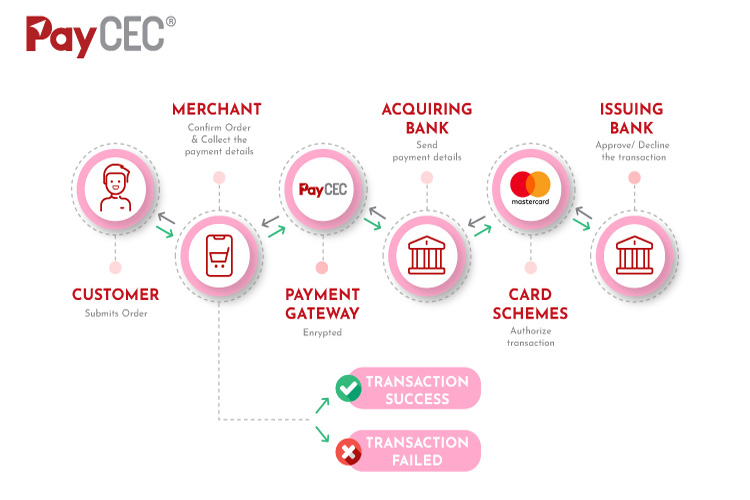 How a payment gateway for tech support business works
After a customer has finished selecting the items they wish to purchase, the merchant website will direct them to the checkout page, where they must enter their credit card information, including their card details and CVV number.
The data will then be encrypted and sent to payment gateways for transfer to card schemes (VISA, Mastercard, JCB, Discover, and so on). Following that, the card schemes will identify the credit card brand and clarify the customer's data.
If all of the information is correct, the issuing bank will approve the transaction and transfer funds to the acquiring bank. To get the money into their bank account, the merchant will need a merchant account (brought by payment gateway providers).
Why is payment gateway for tech support business a thing?
E-commerce boom has seen payment gateways take flight in the tech industry
Technology is progressing faster than ever, and the global demand for innovations is increasingly high. As this market grows, going global helps your target audience become aware of what you offer, opening the door to a higher percentage of markets. And payment gateways are requisite for this!
In small business tech support services, allowing customers to pay by credit card is vital as cashless payment is on the rise, otherwise, your support representative can't close the deal. Besides, selling a service related to tech support has inherent risks, including:
Volatile ticket sales: Because business technical support necessitates specialized skills, ticket sales are higher than in other industries, making it difficult for IT business owners and banks to determine an average transaction size.
Uncontrollable scams: We all have to agree that the biggest problem of IT support is fraud. Rampant malware and viruses have overshadowed the positive aspects of the tech support industry, making it less trustworthy in the eyes of customers.
Business technology support is a service: Your products are intangible, and many times customers have no idea what technological problem they are dealing with. Because of this, you are more likely to disappoint them.
On the one hand, payment gateways help a tech support business in compliance, because they abide by the regulations of the European Parliament, the US federal government and the UK government. On the other hand, having an international payment gateway also has several advantages:
Reduced Cart Abandonment Rate: Imagine how upset customers would feel if they spend hours browsing your site to find out that your services are not available in their local currency?

Offering flexible payment in local currency can drive more leads, lower cart abandonment rates, and increase profits. Therefore, having an international payment gateway for tech support business is a no-brainer.

Better Customer Trust and Loyalty: Card providers won't charge customers extra fees if they pay in local currency, giving your business the valuable trust and loyalty of your customers.

This also reduces the number of calls your customer support receives to explain that your business doesn't charge the fee.

Lower Credit Card Decline Rate: Credit card payments made in the local currency have a lower decline rate because transactions easily pass the fraud test. Who wouldn't favor a brand when they know the payment process will be smooth?
Reduced Chargeback and Refunds: Having the total cost displayed in a customer's local currency helps to lower the chance of refunds and chargebacks. This type of unambiguity also helps small business tech support services secure customer's trust.
What do you need to consider when looking for an international payment gateway
Payment methods
Payment methods are evolving with the wave of digitization. In Asia, most online transactions are made by scanning QR codes. Today, apart from region-specific payment methods, there are some global choices.
QR codes are hip and trendy in Asia
For example, credit and debit cards are the most widely used online payment methods, of which Visa and Mastercard are top dogs. So, if you are providing small business technology support, accepting them is a must.
Regarding payment gateway for tech support business, the number of payment options is not as important as which methods available in a given market. However, giving your customers a variety of choices will increase their satisfaction and your conversion rate.
Currency conversion
When using an international payment gateway for tech support business, you should take two types of currency into consideration:
Transaction currency: It is the currency in which payment is made. More specifically, if your product costs USD 100, but your customer from Singapore uses a credit card in SGD, they still have to pay in dollars.
Settlement currency: is used when recording transactions in financial statements. The settlement currency is not necessarily the same as the transaction currency. Usually, it has the same denomination as the local currency in which your company operates.
As you guess, transaction currencies bother your customers the most as they might not be patient enough to calculate the final price. More importantly, selling your services abroad in your home currency will create an extra cost of foreign exchange. Your customers would not be happy with it!
Some Asian e-commerce sites are making a bad impression with checkout pages that are either not in European languages or poorly translated. It's important to remember that any minor error on your checkout page – be it a typo or a translation failure – will leave a negative impact on your credibility and retention.
PayCEC - The best payment gateway for tech support business
PayCEC is a reliable business partner and service provider in the financial industry and other business-related services. With the help of long-time professionals, our mission is to help merchants to achieve their goals for the development and expansion of the international business market.
PayCEC is a fully worldwide payment network that not only allows merchants to be paid immediately and securely, but also allows them to withdraw money in multiple currencies to their company accounts.
International payment gateway for tech support business
PayCEC's collaborative teams of professionals, which include researchers, engineers, consultants, and business partners, continually generate creative solutions that give clients a competitive advantage:
A team of experienced professionals to help you solve your business's most complicated problems, decrease risk, and achieve competitive benefits.
Creates the most vibrant and bustling global e-commerce environment to inspire startups to turn their desire for success into reality with digital transformation.
Comes with a slew of certain features and resources. We want to assist merchants across the world in achieving their goals for worldwide business development and online expansion in the long run.
Alternative solutions for tech support businesses
API
" API " stands for "Application Programming Interface", a set of written instructions that connects and shares data between two devices, databases, or apps. In other words, it is a software language that allows us to perform tasks more easily online or on our smartphones.
In fact, we use APIs all the time and might not even realize it.
Moreover, APIs enable seamless software integration, allowing apps to share data in real time more easily than ever before. APIs have transformed the payment experience by enabling faster, more secure, and cost-saving transaction processing.
Small business tech support services can gain access to them and use them to create new products from which clients - who could be consumers, small businesses, or even enterprise companies would benefit.
API providers are any companies that allow third-party access to bank accounts in some form. Banking open to public API providers can be classified as both AISPs and PISPs, as they all provide APIs to assist their customers in using open banking.
Marketplace that support digital businesses
Established in June 2019, papmall® is an international e-commerce platform that not only offers online shoppers a simple, secure, and enjoyable online shopping experience, but also serves as a solution for global vendors to maximize revenue.
It creates a community of talented people from all walks of life who share their success stories and how they can help their clients thrive in business with each and every solid step.
It specializes in digital software solutions, and bridges the gap between clients seeking digital solutions, IT products, IT licenses with detailed guidelines, customer support service, graphic design, video softwares, and so on.
papmall® is ecstatic to be chosen as the most recent platform for freelancers and small businesses. So, if you are embarking on offering small business technology support, it is definitely the partner you have been looking for.
Conclusion
These days, there are numerous international payment gateways to choose from, so the biggest question is which payment gateways will suit your business best.
Most importantly, keep in mind that you should not rely on a single payment method. Indeed, it is advantageous for tech businesses to provide multiple payment options in order to satisfy all kinds of consumer preferences.
Read more:
About PayCEC
PayCEC was established to help merchants accept online payments more quickly and easily. In the new media era, our payment flow has evolved to work seamlessly and effectively across all platforms and devices.
PayCEC is a truly global payments platform that not only allows customers to get paid but also withdraws funds to their business accounts in various currencies. Customers across the world have chosen us as their favorite payment gateway for tech support business.
We have created an open and secure payments ecosystem that people and businesses choose to securely transact with each other online and on mobile devices.
PayCEC Team